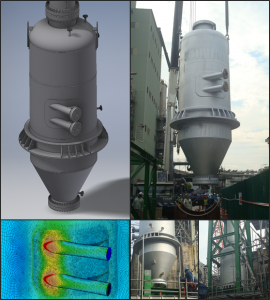 We were approached to undertake the design of a new emergency vent separator for our client. Alongside the normal detailed design and supporting code calculations a detailed FEA was required in order to verify that the tangential inlet nozzles could withstand the large loads that could potentially be placed upon them.
A linear elastic stress analysis was conducted in accordance with ASME VIII Division 2 Part 5 and necessary modifications in the form of a compensation pad and gusset were introduced in order to meet the required nozzle loads. JM Dixon Associates provided full fabrication drawings together with CAD data to allow for the laser profiling of certain components which assisted the fabrication company in producing a quality product on time.
JM Dixon provided a full FEA report together with standard design calculations all of which were successfully verified by the nominated 3rd party insurance company.
The end user contacted our client to commend them after a successful installation without any issues.